Christmas is over, and you're stuck with 8 rolls of snowflake and candy cane wrapping paper because you bought the 10 roll jumbo pack that was supposed to save you a lot of money.

Now you have three rolls left and you don't want to save them for next year…because people do remember wrapping paper patterns!
Here are a few ideas to put that paper to good use from getgreeliving
Line Your Dresser Drawers with Leftover Paper
Drawer liners do wonders to protect your clothing. Believe it or not, wrapping paper makes great drawer liners. Cut pieces of wrapping paper to fit the bottom of your dresser drawers. Attach the paper with double-stick tape. Voila! Homemade drawer liners that are environmentally friendly because they are made of paper that didn't end up in the landfill and they didn't cost you a penny!
Use Leftover Paper to Protect Fragile Ornaments
When the holidays are over and you have to pack up the ornaments and other Christmas decorations, use scraps of leftover wrapping paper to protect the ones that are fragile. As an added bonus, you'll be greeted with holiday cheer when you unwrap them next year! This is also a great way to protect ornaments and other fragile items when moving.
Shred any leftover paper and use it in place of packing peanuts to protect valuables when you ship them. The shredded paper can also be used as a fun alternative to tissue paper when you use gift bags. It also makes a great bed for your kids' Easter baskets!
And finally...Clean the Windows with Paper
Like newspaper, wrapping paper is great for cleaning windows and leaving them streak-free – use it instead of paper towels or a cloth. (Avoid using the shiny/plastic stuff though.)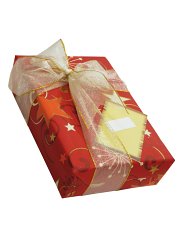 What do you do with your leftover wrapping paper?
A Rodeo Man's Promise (Dec 2011)
Arizona Cowboy (Feb 2012)